The 'iLLOGICAL THEATRe' & Walkthrough of Ameen Khaleel's Works
Ameen Khaleel, Born in Kerala- 1975, presently works and lives in Cochin, Kerala. Lived and worked in cholamandel artists village, Chennai for a decade.
He was awarded the Gjutars Residency and a grant from the City Council in Vantaa, Finland (2014), He also received the solo exhibition grant from the KLKA(2016, 2020) and the Exhibition Grant from Mairie de Paris (2018).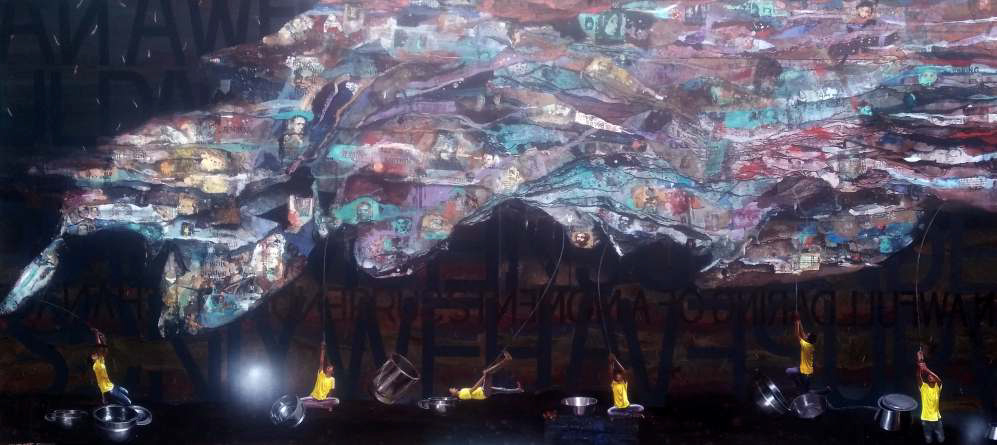 Khaleel's solo shows range from 'Cage of Poignant Evolution' at the Durbar Hall Art Gallery, Kochi (2016), and Penumbra. Gjutars Gallery, Vantaa, Curated by Raimo Jaatinen (2014), to "who is in?" at cafe Oliven of son, Norway (2014), Silent Spectator at Alliance Franchise of Madras, Chennai (2005) and Sotto Un Diverso Cielo at Galleria La Carte Arte Contemporanea, Firenze, Italy curated by Katrin Tschurtschenthaler (2010).
His group shows include showchaud.un and Non-Lieu/No place, Indo-French Contemporary Art Space, Kochi, Supported by Alliance Franchise Trivandrum (2019), FACES / VOLTE-FACES, 59 RIVOLI, Supported by Mairie de Paris, FRaap, and Alliance Franchise Trivandrum (2018), and MERE – Apparoo Gallery, Chennai (2001).
The Ladder
Ameen Khaleel works in a subdued and minimalist style utilizing diverse materials, objects, digital images, video clippings, etc. In the work 'Kanjikuzhi' (Pit for food) he refers to the old system of serving food to Dalits in pits made on the ground outside, and to the place-name found in many places in Kerala (at least Alappuzha, Kottayam, and Idukki districts have these) which may have come from this caste practice. The work alludes to the enforced subordinate position according to the lower castes and the elaborate practices of humiliation that go along with it. Ameen uses sand on drill cloth and digitally transferred images with diligence to put forward a memory from the previous history, and creates a visual narrative, even while sticking on to his paired down and minimal style.
In 'Void vessels' Ameen works with digitally transferred images of vessels used for domestic purposes on canvas which brings forth the memories of those vessels, baskets, etc. as containers used for strong, carrying, or other days to day purposes, the images of these vessels, naturally are as dysfunctional as a Kosuth chair or Magritte's pipe.
The image of a 'Fat Patriot' inspired by Mu Boyan, is that of the limbless torso of a plump man in his underwear. The image also reminds us of the many figures of George Grosz which depict gluttonous capitalists. While it does evoke the memory of the ideological underpinnings of nationalism, it also does take recourse to a stereotyped view about the human figure, which tends to devalue a fat torso as something removed from the 'ideal' one, and hence somehow unfit. This complication is also one that involves a necessity for a macro-level understanding of the discourses around 'ideal' bodies, which are also ideological constructs and hence deeply problematic (some of the most virulent patriots from Hitler to Golwalkar were quite lean figures). At the same time, patriotism itself, a phenomenon that took its present form around the seventeenth century, is also basically based on a territorial sense, which anybody acquainted with history would know to be transient and subject to periodic changes. In the installation Ladder-1, composed of a burned and broken ladder kept against a wall and the video clipping of a man in blue dress repeatedly climbing up and down a ladder, he attempts to act out the drama of common man's aspirations caught up in a move towards upward mobility and the impossibility of its realization in the present. To Ameen, the everyday moves for survival are of no great significance since they are at the best delusions of a certain kind that have no material truth. The significance of strategies for survival while of great significance to the marginalized, appear to be betrayals for other people, though they wouldn't be reluctant to accept who are marginalized should always remain so and that any attempt at bettering their lives have since shifted the blame for maintaining an exploitative system from the ruling classes/castes cannot be questioned since a radical questioning of the legacies of oppression can only be best understood by people who have also had the opportunity to get a piece of comprehensive knowledge about how privilege and exclusion work at various levels in society. To ensure that conditions of depravity prevail constantly for the marginalized and the minorities is also a way for ensuring the maintenance of hegemony.
P.J Benoy (Art Critic)
Ameen Khaleel presents a remarkably insightful understanding of patriotism and the relations between borders, His work consisting of combinations of brushy painting with digital manipulation in this show is 'Fat Patriot' in which he ironically depicts an undergarment made of national flags. His other work is 'Screwed Map' which also shows the geographical or political maps of different nations screwed for positioning. Many maps, for instance, is his concept which indicates the futility of keeping boundaries. He believes boundaries limit the emotional means of artistic expression. He further says that a boundary is a form of a fight and it requires a lot of arsenals to maintain them, however, none of this nonsense would make any sense in assuring the solidarity. 'Screwed map' is an intriguing art both visually arresting and thought-provoking. His positive vision about boundaries is unique since he sees boundaries as the point where two entities touch each other; the focus is necessarily on contacts, mostly inter-ethnic contacts. Ameen Khaleel says about the limitation of boundaries which typically function as filters through cultural access passes and are exchanged.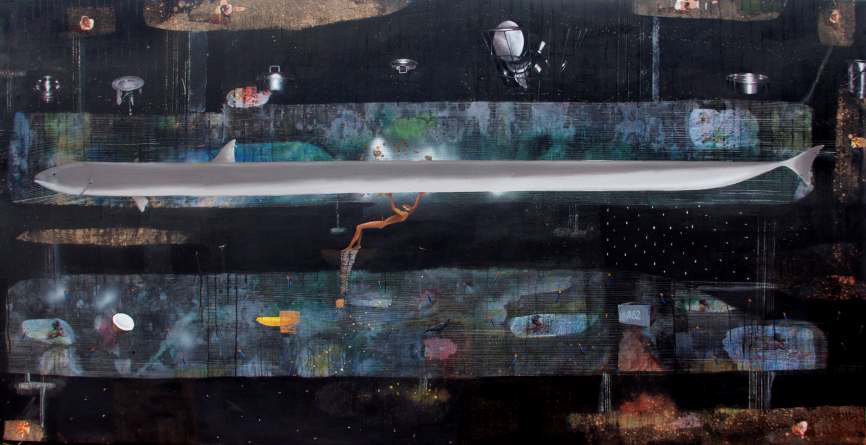 In an age of transient sovereignties, collapsing state frontiers, expanding hybridization, ethnic amalgamation, cultural mixing, and ever-increasing communication, a remarkable interest in boundaries has sprung up. 'Boundary' and related terms have been in use since the dawning of disciplines like geography and history, yet their conceptualization is relatively novel in Art and circle.
Danavan Ramesan
Era un agosto di 4 anni fa ed ero a Kochi, una città del Kerala che nella sua parte storica conserva un fascino particolare che raccoglie ricordi portoghesi, cinesi, olandesi ed anche ebraici con un' antica sinagoga al termine di una strada dai muri bianchi all'inizio della quale c'è un Synagogue Cafè and Art Gallery, i cui proprietari sono due fratelli mussulmani.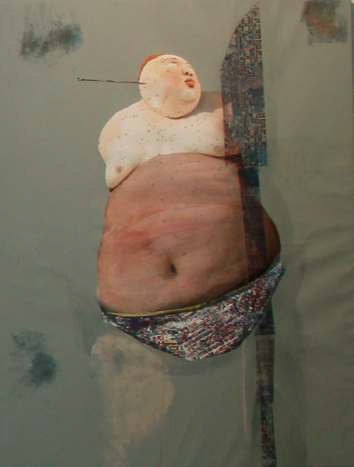 Mentre bevevo un caffè e guardavo i quadri appesi alle pareti, ero fondamentalmente annoiato dai soliti lavori per turisti, con paesaggi e composizioni privi di interesse. Poi fui colpito da due lavori, totalmente diversi da tutti gli altri, li guardai con attenzione. Avrei potuto vederli in una buona galleria europea o americana. Così ho conosciuto Ameen, creativo, intelligente, irrequieto, in un contesto dove le caste ed i rapporti sociali soon estremamente rigidi e le possibilità per un mussulmano sono rigidamente limitate, dove, specie nel sud, I mussulmani sono i nuovi dalits , gli intoccabili.
Ameen ha lottato per crearsi uno spazio, fuggendo dalla famiglia e dalla sua città per poi tornarvi per portare una testimonianza del suo talento e per volersi affermare contro tutto e tutti. Nei suoi lavori ci sono ricordi d'infanzia, con bimbi intensi che ci guardano con domande inespresse, le sue storie d'amore, violente e spesso tragiche con amori impossibili per donne che, per la maggior parte non hanno in realtà libertà di scelta. Il suo desiderio che i sogni si avverino e che la realtà possa diventare quella sperata travalicando la durezza del quotidian. Ameen utilizza tecniche moderne ed antiche, fotografie digitali stampate sulla tela e poi rielaborate in collages, con interventi di pittura , meditati e rabbiosi allo stesso tempo, inserimenti di immagini e parole riprese da giornali o riviste, sovrapposizioni e ripetizioni, un suo stile personalissimo e distintivo.
Vorrei chiudere questa breve presentazione con una breve storia che mi ha raccontato e che penso possa far capire molto di lui : Suo padre, dopo il matrimonio, proibì a sua madre di andare al cinema. Lei, in casa, cantava le canzoni popolari dei film che aveva visto da giovanissima. Il piccolo Ameen sentiva la madre cantare queste canzoni che parlavano di re e regine e di grandi amori. Un giorno, lui aveva sette anni, lei decise di andare un pomeriggio al cinema con il bambino proprio a vedere un vecchio film di cui cantava sempre le canzoni. Dopo pochi minuti Ameen si mise a piangere: mamma ma è in bianco e nero ! io quando cantavi vedevo tutto colorato
Sergio Fintoni
Ameen Khaleel's works : An Appreciation
'Art begins in the mind of a creative individual. The artist takes his significant experiences and thoughts as raw material and creates a perceptual embodiment for them. Each artist makes independent judgements about which of his experiences and thoughts are significant. And to the best of his ability and with his unique style, each artist employs the techniques of his perceptual medium of choice. The result is an object that, at its best, has an awesome power to exalt the senses, the intellects, and the passions of those who experience it.'
There has always been a contest between philosophy and art-making rival claims as to which is closest to the truth. The contest goes on to this day. Ameen Khaleel's work takes part in the age-old controversy by struggling to create a new sense as well as the sensibility of reality beyond philosophical reach. However, in the struggle, Ameen Khaleel creates more with his philosophical grip than with the power of images. His is creative power seasoned by reason of science and technology. Ameen Khaleel creates more with his philosophical grip than with the power of images. His creative power is seasoned by reason of science and technology. Ameen Khaleel's work by its nature expresses his being. They express what he thinks and feels to be significant. They express the deepest choices he has made.
Ameen is an informed artist – informed of schools of thought in art and philosophy – who is conscious of the intellectual aspects of his works. His concepts designs and strategies of artistic representation did change over the years. He goes on Experimenting with the strategic choice of what to express and how. However, he seems to have been influenced by 'Pablo Picasso's fractured world populated by vacant-eyed, disjointed beings' and 'Edward hopper's emotionally out-of-tune men and women in bland, worn settings. There is 'the predatory horror of Willem de Kooning's Women series' explicit in some of his assemblages with himself shown as a helpless child. There is in his work Salvador Dali's surreal world in which the distinction between subjective dreams.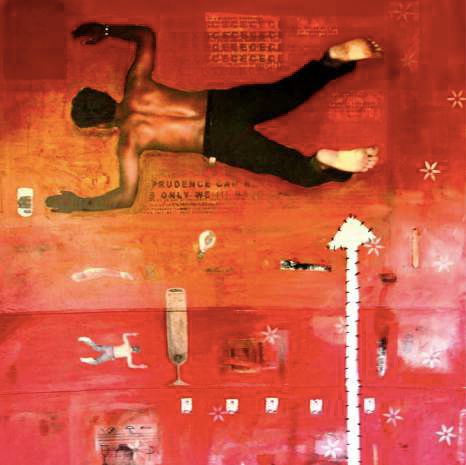 There is 'Andy Warhol's smirking trivialization and mechanical reproductions in his art. One is reminded of the reality that is enshrined in Edward Munch's The Scream, the horror of being a cipher in a world of dreadfully swirling near–formless forms, while we experience some of the compositions of Ameen Khaleel. Despite such intellectual influences of modernity, there is no self-elimination in his art. In fact, what one is tempted to complain is about their narcissist overtone and solipsism of postmodern thinking. This is more copious in some of his works that show a tendency to make art like a cluster of images and materials to be manipulated. They do clash with his perspective of critical social consciousness. The fragmentation of modern life as such is not a bad thing, for it is liberating. However, a total dismissal of aesthetic quality, artistic integrity, and beauty as products of outmoded meta-narratives, is not uncritically accepted anywhere in his works, because ultimately, they are political.
A blend of image and abstraction is the most characteristic trait in Ameen Khaleel's works. They are mainly assemblages aiming at expressing the ineffable and that which is difficult to grasp; that which brings to light the deepest mystery of being. But he is not metaphysical, he is inspired by critical social theory but cautioned by both the problems of modernity and uncertainties of postmodernity. We see in his works the profile of current tensions and dilemmas that deeply engage a sensitized individual today. The importance of Ameen Khaleel's work is their capacity to be in a relationship of confrontation with the contradictory social processes and oppressive human relations with the whole confusion in the current world of ideas. Critical thought about culture forms the root of his art.
Ameen Khaleel's works are important to me, for they are politically engaging, there are broader issues of social concern in his works. So, I would say that his works represent a combination of insights from critical theory, postcolonialism, critical social pedagogy, and postmodernism.
Dr. Rajan Gurukkal Former Vice-Chancellor- Mahatma Gandhi University, Kerala.
Former Director, Dept. of Social Science – M G University, Kerala.
IMAGES OF WAR
'Ameen Khaleel's visual language connects with humanity at every level '
Rebellion and aggression are his markers of creativity. After marking his identity within the artistic arena through interpolation with his experiences, Ameen Khaleel has now stepped outside to become 'political' by addressing social issues that envelope us, for instance of children and their struggle for survival in war zones particularly, to other dimensions of stress and tension experienced by them.
Ameen today has gone global because of his visual language, the aesthetics of which connects with humanity at both the macro and micro levels. Earlier, mediating through his body that served as an interface for various existentialist issues, he has now moved beyond to explore the politics of representation. And in the present exhibition, he has come up with the concept of 'Rumour' gesturing towards technology and particularly the internet with its various sites and blogs that perennially offer all kinds of news and views.
Hence it was one such blog on the internet that threw up a story of child abuse in Iran and was later found to be manipulated and false. Premising on the concept of babies and children, he developed the notion further through intervention with digital photography and other technologies. Ameen in this series of works has not taken the position of a recontour, but his perceptions of Iraqi children particularly, strike a polarity with his own childhood that was happy, and these children for whom happiness will perennially evade them.
Carrying his observation to another level, he has brought in a protagonist Rihan (his nephew] whose photo shots are moved beyond to explore the politics of juxtaposed with images offered on the Iraqi war blog. Thus a dead child from the blog is simulated with a similar posture made to enact by the protagonist and then photographed, which he composes into an artistic expression that remains poignant.
Ameen's visual language is not easy to grasp. The imagery is elusive bordering on the luminal of life or death. Mediating through digital technology, photography as well as paint and brush, he leaves the viewer perpetually guessing about the medium used. There are poignant moments in his works as "Sweet Wounds or Bleeding Testimonial" where the artist has inscribed his own body through fragments as hands and feet and also has hands and feet and also has included his father's hand thereby providing the emotional connectivity through the blood that is physically splattered on the canvas. The intriguing aspect of his creative artistic expressions is his ability to arbitrate with the right material, medium, and technique. There are textures that recreate wounds that implicate both the emotional and physical. the speaking vocal colors that have their own narrative to relate and the pastiche of printed matter that implies the internet blog site and the sensational news it has to offer.
In addition to the mixed media that he has created, Ameen also uses installation to make his ideas more verbose and convincing. An entire wall of the gallery space becomes his canvas and here against a silver-painted background, he has extended his notion of rumor through photostat images and printed matter. The installation Is a table with a glass of blood.
IN SEARCH OF AN IDENTITY
The self emerges evidently through signs and symbols in Ameen Khaleel's works.
Within the present context of what is generally termed the post-modern scenario, art as an expression, for many artists, has become a complex process-appropriations, choices, simulacra (sameness) – battling with the visual and sensuous bombardment that they are subjected to from various mediums. It is in this milieu that one needs to look at the works of Ameen Khaleel, and artist from Kerala.
Looking at Ameen's work, you realise that all artistic productions and aesthetic experiences require a constant renewal through imagination. And Ameen from a period of isolation, when he went through a process of intense introspection, has emerged to mark his self within the artist community. The 'self' emerges evidently in most of his compositions through signs and symbols. His use of imagery transferred from digital prints as in "well" or printed digitally directly on canvas as in "Imthyas kissing his wounds" is fragmented and borne out of his experiences. These fragments or parts of the human body have the power of conviction to transform or gestalt into complete forms through the imagination of the viewer which the artist subjects to through such indexical vocabulary. And this is where Ameen significantly makes his human forms fragile, reflecting his own vulnerability in a society where distinctions of caste, class and colour still persist, His "Imthyas flying in imagination" is pregnant with these signifiers.
IDENTITY CRISIS
Ameen tells the story of Imthyas who is unknown to the viewer but has a close bond with the artist, in which Imthyas royal clan with their own kingdom (symbolised by the cat in one painting) was usurped by members of another race, thus marginalising them to a subaltern condition. Imthyas is portrayed dark and half buried under the ground, symbolically remaining in that state and incapable of rising up from the present status that he has been pushed to Obliquely, the artist's identity crisis gets reflected through Imthyas. Ameen, who is essentially a self-taught artist, went through the process of acquiring various skills from varied disciplines as computer graphics, representations in electronic media and fashion designing. And he translates them appropriately to the needs of expressing his life's experiences.
This type of tutoring that he has subjected himself to becomes obvious; particularly in the way he is able to control his strokes and colours are vividly alive. So much so that his works exude dynamism.In addition, the artist has also scribed his thoughts on the canvas in Malayalam script, making his frames vibrate with taut tension artist's fantasies and imagination have been given a free rein, allowing a happy escape into another reality, which he calls"Penumbra of life lines". Quite ironically, the shadows of his past experiences find a cathartic release in this body of works.
Dr. ASHRAFI S. BHAGAT Art Historian and Art Critic
.